In the competitive landscape of real estate, the value of authentic and personable agents cannot be overstated. Gone are the days when a simple business card or a glossy brochure could do the trick. Today's savvy clients crave a deeper connection with their agents.
Enter the real estate profile video—a potent tool that offers more than just a face and a name. It's a window into the agent's personality, their ethos, and their unique approach to the business.
A well-crafted video can serve as a powerful catalyst, transforming a passive viewer into a potential lifelong client. Authenticity is the magic ingredient that can elevate a good agent to a great one.
As real estate transactions often involve months of interactions, numerous phone calls, and multiple site visits, clients want to feel comfortable with the person guiding them through one of the most significant decisions of their life.
In this article, we'll dive into some of the most compelling agent profile videos that masterfully blend professionalism with that personal touch, effectively turning virtual handshakes into closed deals.
Jennifer Skoff Soars Over Northwest Arkansas: Drones, Deals, and Dazzling Shots

Jennifer Skoff of Coldwell Banker in Northwest Arkansas takes viewers on an aerial adventure in her profile video, offering a bird's eye view of the local real estate market that is as comprehensive as it is captivating. The video skillfully incorporates drone footage of commercial and residential areas, scenic roads, and local hotspots, setting the stage for Jennifer's deep understanding of the region.
But what truly sets this video apart is its human element—Jennifer is shown interacting with clients, demonstrating her polished professionalism that clearly resonates with buyers and sellers alike. And don't miss the striking mid-video sequence where Jennifer walks against an eye-catching orange and green background, providing a unique visual flair that you won't forget.
This isn't just a real estate video. It's a compelling visual journey guided by an expert in the field.
Paul Mancini Drives Home Family Values in Chicago: From Babies to Beers

Paul Mancini, representing @properties in Chicago, kicks off his video with a heartwarming shot of him carrying a baby. Whether it's a clever nod to a future in politics or just a personal touch, the introduction captures your attention instantly.
As the video unfolds, a stellar drone shot takes us above Paul's car, offering a unique vantage point as he drives to various properties. This unique perspective is paired with dream-like sequences where Paul, awash in natural light, guides us through gorgeous homes, as though we're walking through a cloud of possibilities.
Paul's professional finesse is underscored by glowing testimonials from satisfied clients. These endorsements come with a charming twist—scenes of Paul petting his client's dog or sitting outside, enjoying a casual beer.
It all culminates in a panoramic tour of the Chicago suburbs where he operates, rounded off by striking cityscape views. The video comes full circle with another tender baby shot and a drone sequence showing him driving away, sealing the deal on this multifaceted, visually enchanting real estate profile.
Laura Riascos Sets the Tone in Summit, NJ: Music, Mantras, and Multifaceted Wisdom

From the moment you hit play, it's clear that Laura Riascos of Signature Realty in Summit, NJ, is not your average real estate agent. The video is set to a thoughtful music selection that immediately engages your senses, preparing you for a different kind of real estate experience. Laura sits against a warm background, complete with a flickering candle, perfectly in tune with the video's soundtrack.
Interspersed with the real estate imagery are words of wisdom from various thinkers—a unique touch not commonly found in agent videos. This feature alone speaks volumes about Laura. She's well-read, intelligent, and exudes a zen-like energy that's both inviting and reassuring. She openly discusses her mission to reduce stress for her clients, adding another layer to her holistic approach.
The video concludes with a musical switch to honor her cultural heritage, a touch that highlights her multifaceted personality. And just when you think it's over, a playful outtake at the end serves as a delightful reminder that while she's all about wisdom and serenity, she also knows how to have fun.
Carla Ng's High-Energy LA Life: From Beaches to Biking and back to the Bay Area

Carla Ng from Keller Williams launches her profile video with scenes that define the California dream: breathtaking beach shots that immediately capture your attention. Specializing in coastal living, Carla's video is a whirlwind of energy and enthusiasm that perfectly mirrors her professional style. This isn't just about houses. It's about a lifestyle.
Amidst the stunning beachfront properties and thriving neighborhoods, Carla interjects her own passion for fitness. Clips of her exercising and cruising along the beach on her eye-catching blue bike add a personal flair, offering a peek into her daily life while underscoring her always "on-the-go" approach to real estate.
But Carla's reach isn't confined to just Southern California. Smartly, the video concludes with her backstory of growing up in the Bay Area and her recent transition into the Silicon Valley market. She keeps videos for both regions active—a savvy move considering the frequent migration between Northern and Southern California. By showcasing her expertise in both markets, Carla establishes herself as a versatile agent capable of helping clients navigate real estate from the coast to the tech corridors.
Alex Kolesar's Straight-Shooting Ohio Profile: Military Service, Integrity, and a Scorsese-esque Finale

Alex Kolesar from eXp Realty in Ohio showcases that you don't need a Hollywood budget to make an impactful real estate profile video. His straightforward, relatable demeanor immediately shines through, inviting viewers to trust him as both a person and a professional.
From the get-go, Alex plays to his strengths, bringing up his military service. This strategic choice appeals to a specific niche market, as he specializes in representing military members during relocations. His authenticity and trustworthiness radiate throughout the video, making him an appealing choice for anyone, not just military clients.
One of the standout features of Alex's video is how he articulates the three things that set him apart as a real estate agent, framing himself as a man of integrity.
But perhaps the most intriguing aspect is the video's conclusion: a single, continuous shot of him walking through his office and greeting a client at the door. This Scorsese-esque cinematic choice adds an unexpected layer of complexity to his profile, transforming what could have been a simple pitch into an engaging visual story. It's this blend of professionalism, relatability, and a dash of creativity that makes Alex's video a standout in the sea of real estate profiles.
Spencer Wall's Laguna Beach Legacy: Lifelong Passion, Leadership, and a Sense of Family

From the very first frame featuring picturesque beach shots, Spencer Wall of Berkshire Hathaway Home Services in Laguna Beach, CA, pulls you into the luxurious coastal lifestyle. But beyond the beautiful vistas lies a story of dedication. Spencer has been immersed in real estate from a young age, following in his parents' footsteps and launching his career at just 18. It's clear that real estate is not just a job for him. It's a lifelong passion.
Spencer places a strong emphasis on honesty and ethics, citing the culture of his company and his inspiration from its leadership as key reasons for his affiliation with Berkshire Hathaway. Unique to his profile video is an interview with the broker manager of his office, who lavishes Spencer with praise and accolades.
The video exudes enthusiasm and excitement, but what truly sets it apart is the palpable sense of family. Whether it's the paternal endorsement from his broker manager or Spencer's own warm, inviting persona, you get the feeling that this is someone you'd not only trust with your home but also invite over for dinner.
Stephanie McCarthy's Atlanta Artistry: A Cinematic Symphony of Design, Family, and Fearless Determination

If real estate were an art form, Stephanie McCarthy from Sotheby's International Realty in Atlanta would be its Picasso. Her profile video is nothing short of a cinematic masterpiece, captivating you from the very first 360-degree upward shot. The visual storytelling is exceptional, underscoring Stephanie's keen eye for design and attention to minute details.
If you've ever wondered what top-quality real estate cinematography looks like, this video sets the standard. Adding depth and a touch of nostalgia, black and white stills of her family are seamlessly woven into the tapestry of this visual narrative.
Stephanie is showcased in a flurry of activity: from the office to the car, the gym to city streets, and meetings with clients and their families. She epitomizes the essence of an agent who is constantly in motion, primed to capitalize on opportunities as they arise.
The video circles back to its visual roots with more creative angles featuring Stephanie and her family, but what leaves a lasting impression is her assertive proclamation that "failure is not an option." The conviction in her voice makes it impossible to doubt her. In a market that demands both quality and tenacity, Stephanie's video proves she possesses an abundance of both.
Chauncey Pham's Dallas Authenticity: Trendsetting, Heartfelt, and the Coolest Sneakers in Real Estate

In a sea of meticulously produced and scripted videos, Chauncey Pham of Phamily Realty Group in Dallas stands out for her unfiltered authenticity. No special effects, no fancy cinematography—just Chauncey being Chauncey.
She's a breath of fresh air in an industry that often leans towards conformity. Her words flow naturally, unscripted and straight from the heart, solidifying her as not just a trendsetter, but a genuine, caring individual. You get the sense that she would march to the beat of her own drum even if no one else was listening.
What captures your attention right off the bat are her eye-catching sneakers, a bold fashion choice that perfectly encapsulates her unique personality. It makes perfect sense that she'd opt to establish her own boutique real estate brand rather than join a large, established company—doing things her own way isn't just an option, it's a necessity.
Her video exudes an indefinable "It" factor that goes beyond mere charisma—it's a genuine aura of someone who is both trustworthy and intriguing, the kind of person you'd not only want to do business with but also aspire to be.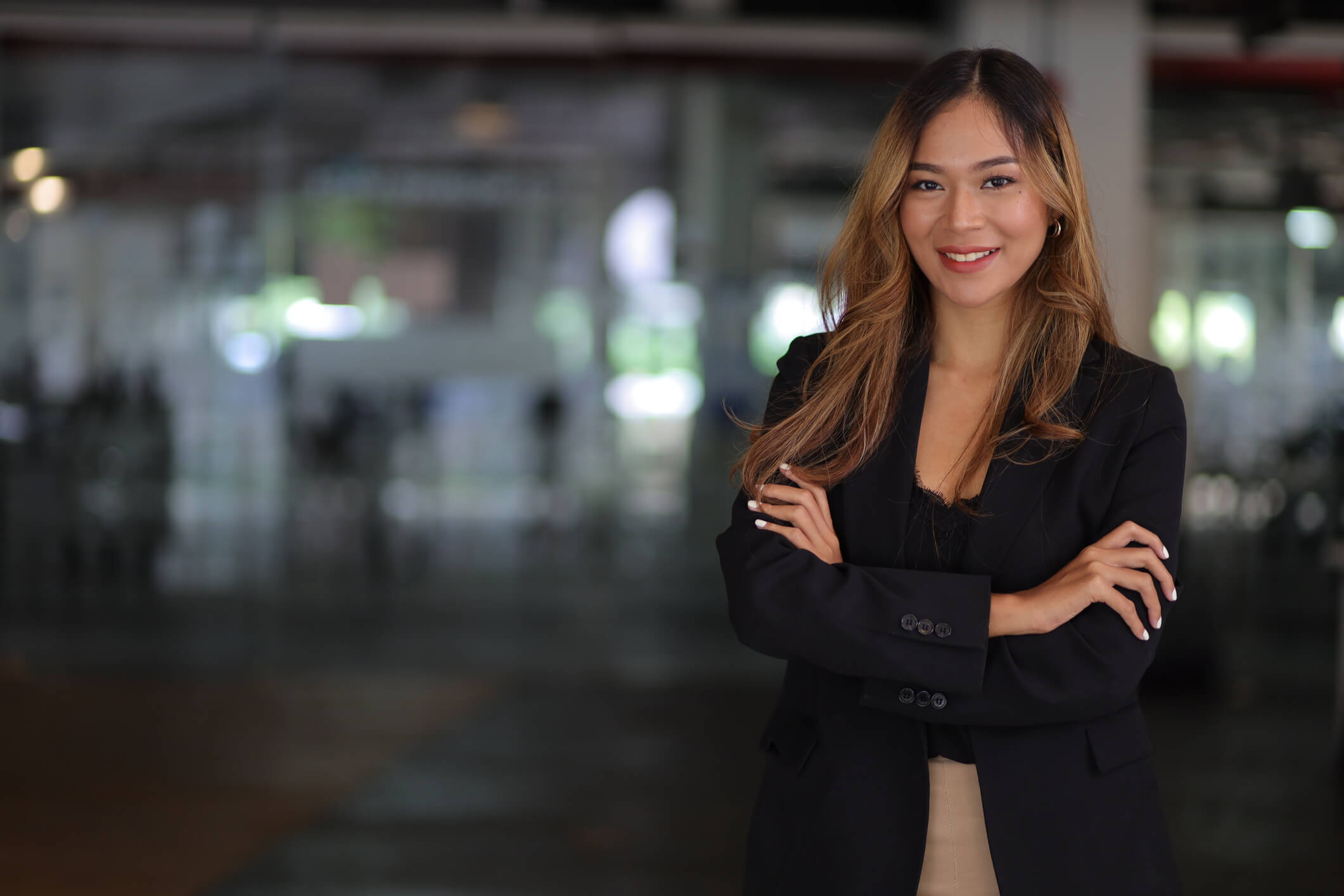 Your Agent Profile Video Is Your Secret Weapon
As we've seen through these diverse and captivating agent profile videos, the common thread that ties each successful agent together is their authenticity and unique personality. So, ask yourself: What sets you apart in this competitive market? Is it your infectious enthusiasm, deep-rooted expertise, or perhaps your avant-garde approach to the business? Whatever it is, there's no better medium than video to vividly capture and convey these qualities.
Not only can these videos be featured on your website, but they can also be leveraged across all your social channels, creating a human connection that digital text just can't match. When potential clients see the real you—your true, authentic self—they are far more likely to entrust you with one of the most significant financial decisions of their lives. So go the extra mile. Invest in a professionally produced agent profile video.
If you're unsure how to get started or looking for top-tier production quality, consider partnering with a professional company like HomeJab. We're committed to helping you shine as the unique, unparalleled agent you are, giving you that much-needed edge in your market.