Spotlight on Austin, Texas
Perhaps you've heard the news: with its low cost of living, generous tax rates, and inclusive atmosphere, Austin, Texas continues to top the list of best places to live in the Lone Star State.
As the capital of the largest state in the continental U.S. by land mass, Austin is steeped in rich history since its founding in 1839. Over the past decade, its population has grown to just shy of one million in the city proper. Many have flocked to this urban oasis to pursue job opportunities in Austin's booming tech industry. Apple, Facebook, and Canva are a few of the heavy tech-hitters that have set up shop in this vibrant city.
Austinites are proud of their unofficial slogan, "Keep Austin Weird" — a vibe reflected in the city's smattering of quirky murals that explode in color. It's easy to get lost among the street art in Austin, only to be found later at a Tex-Mex food truck that serves the best breakfast tacos outside of Mexico.
But Austin is perhaps best known for its suite of festivals that attract both a domestic and global audience of music lovers, film heads, and rodeo enthusiasts. And while Austin City Limits and South by Southwest are among the most buzzworthy festivals, they're certainly not the most unique. That prize goes to Bat Fest on the Colorado River where 1.5 million Mexican free-tailed bats emerge at dusk from under the Congress Avenue Bridge to the sound of live music and the scent of mouth-watering food wafting in the air.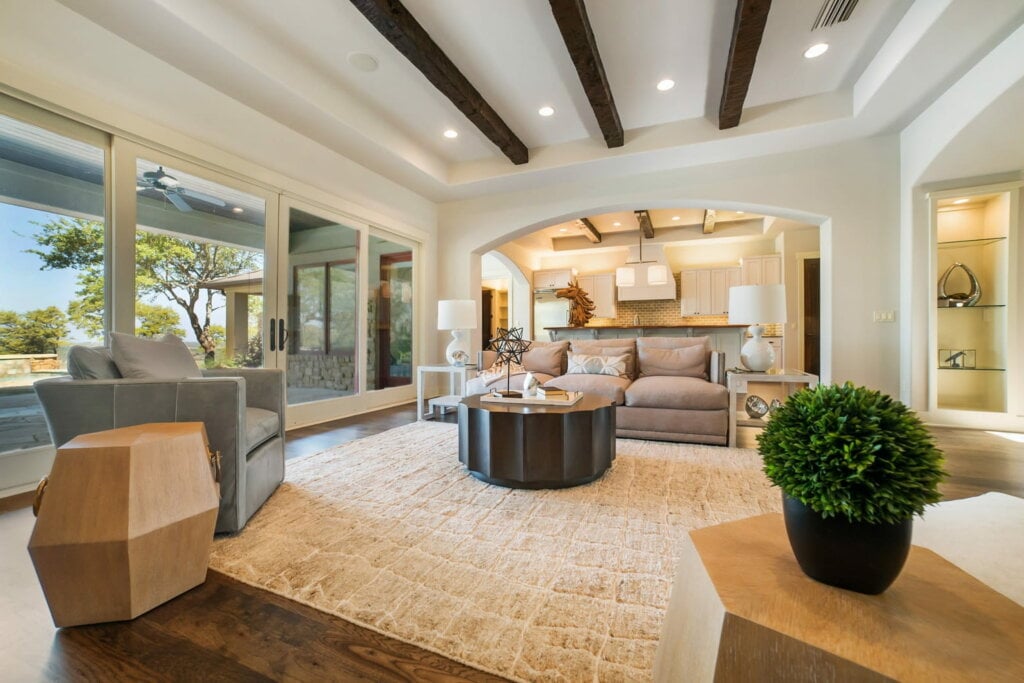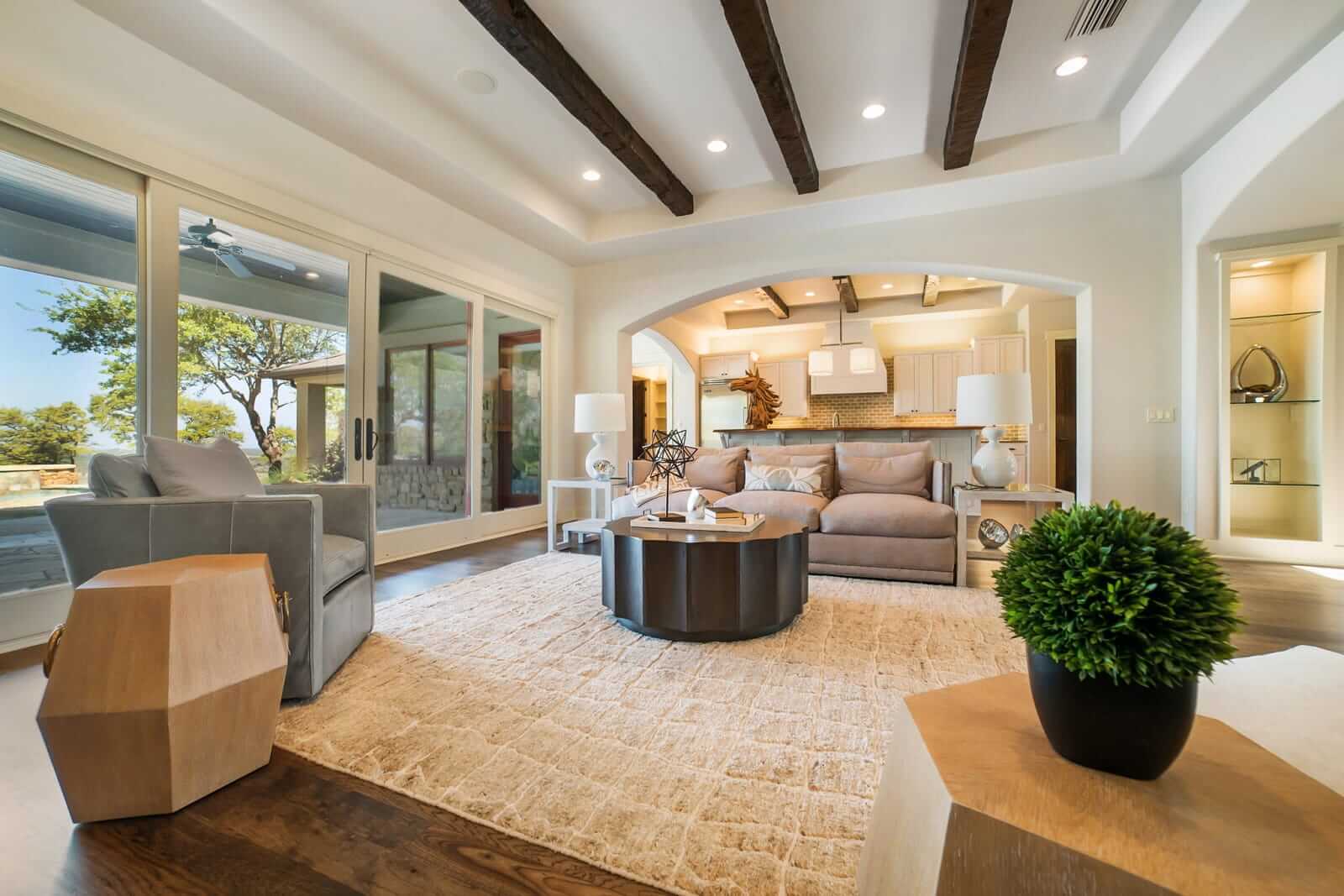 Austin Real Estate Photography
Downtown Austin's cityscape is fronted by the Colorado River and Lady Bird Lake, a man-made reservoir that has long been tipped as the heart and soul of Austin.
Other mainstays include Zilker Park, Barton Springs, and the Texas Capitol Building with its architectural grandeur of marble and local red granite.
All of these picturesque elements add to the allure of Austin real estate photography.
Venturing out to surrounding neighborhoods and subdivisions, such as Round Rock, Cedar Park, and San Marcos, Austin real estate photographers capture images of an eclectic mix of home styles nestled among lush greenery and peaceful waterways.
Austin home photography showcases large, custom brick houses with exposed wooden beams, bespoke fireplaces, and sparkling pools in the backyard. Real estate photography in Austin also spotlights the ubiquitous two-story home built in a contemporary style that boasts ample square footage, modern interior appointments, and the occasional pergola off the back deck. 
Mediterranean-style houses with terracotta roofs also make a splash in Austin real estate photography. These property gems are outfitted with vaulted ceilings, arched columns, and main bedrooms the size of 1-bedroom apartments in Manhattan, New York.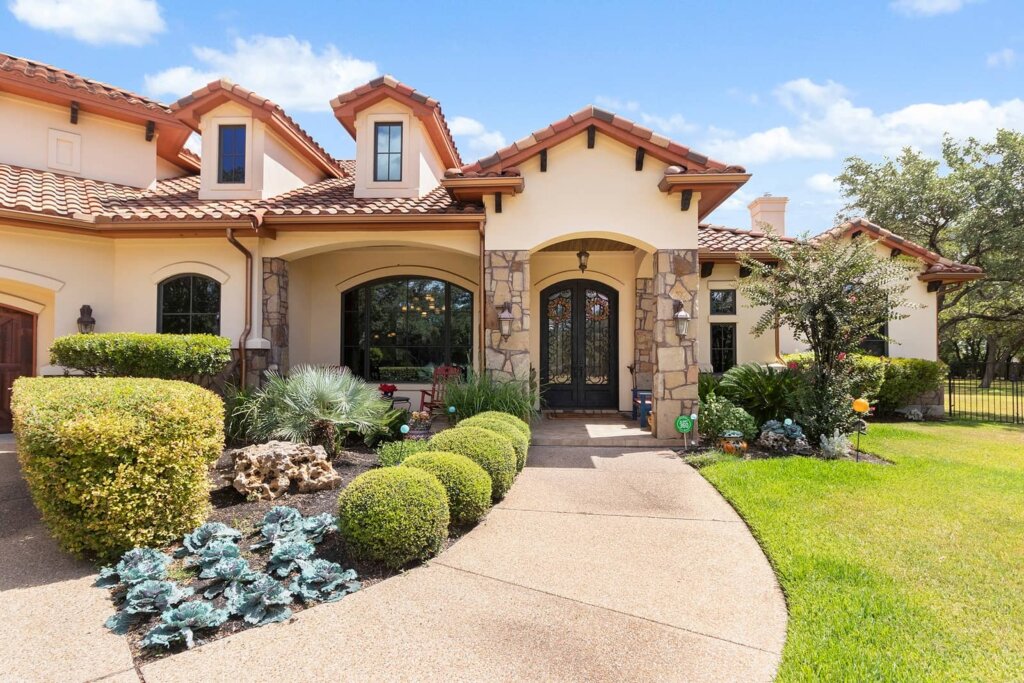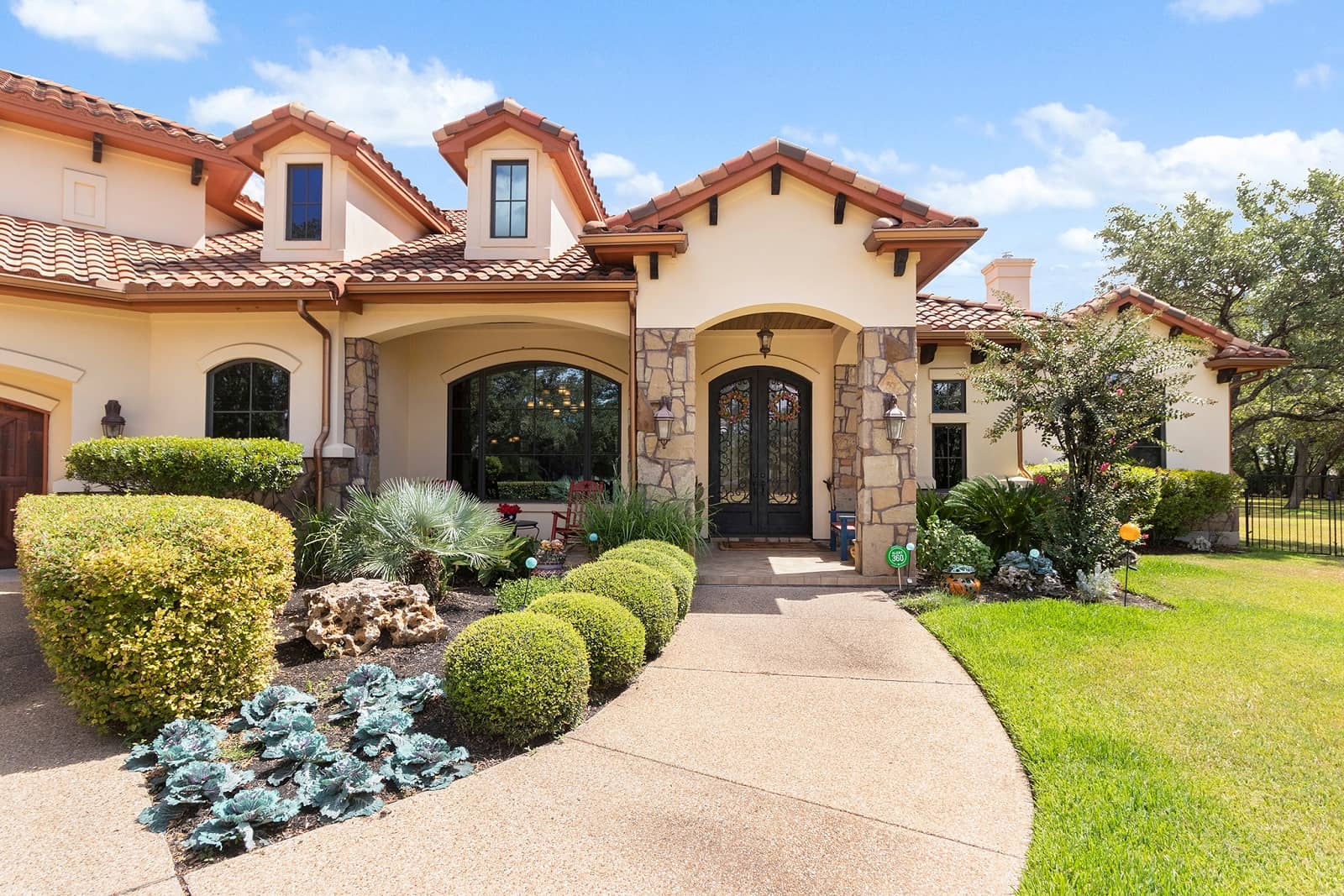 HomeJab's Network Of Real Estate Photographers In Austin
HomeJab's professional real estate photographers in Austin benefit from the pleasant aesthetics that this spirited Texan city has to offer.
Whether your home is waterside or curbside, its featured image should leap off the screen like this one. Our premier real estate photographers in Austin can get the job done, ensuring that each image in your listing presents your home in its best possible light.
So you needn't worry about the nuances of professional real estate photography in Austin. If you have no idea where to start, visit our homepage, schedule a shoot, and let us take care of the rest!
HomeJab's Real Estate Photography Services
HomeJab's on-demand services for premium real estate photography in Austin are fast and affordable. More importantly, our vetted Austin real estate photographers are local professionals who take flawless property images and stabilized footage of your home within 24 hours of your order.
HomeJab's photo and video packages can also be tailored to optimize marketing for your home and help you scale your real estate business. This includes next-day scheduling of standard or luxury HDR photography, walkthrough videos, 3D and 360 virtual tours, floor plans, virtual staging, aerial drone videos, and real estate videography by licensed, FAA-compliant drone pilots.
To schedule a photoshoot or chat with one of our industry experts, visit our homepage.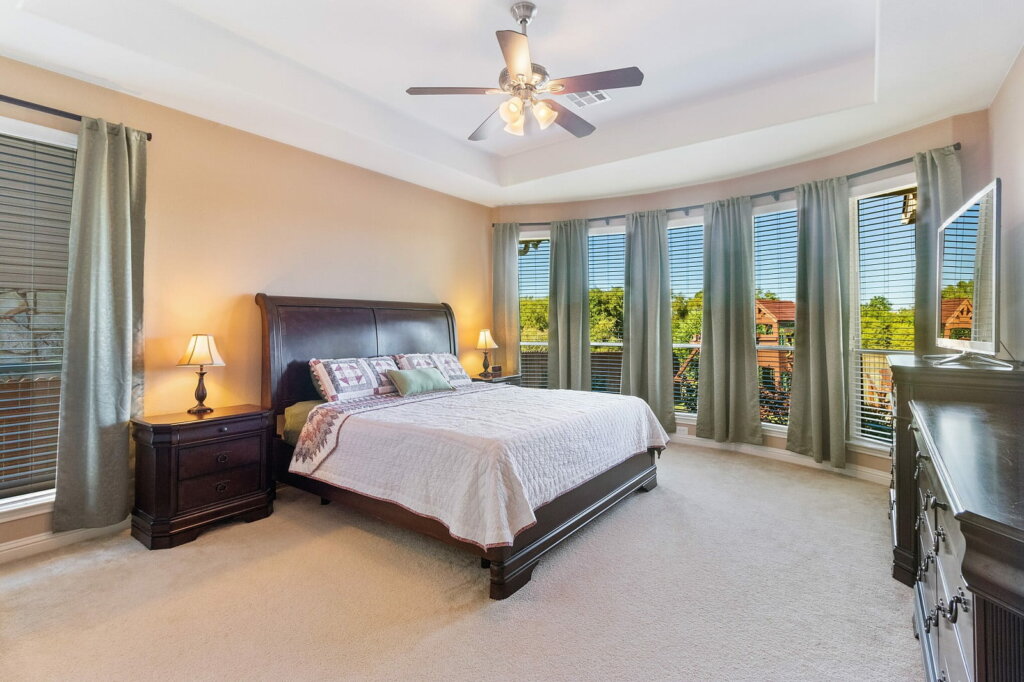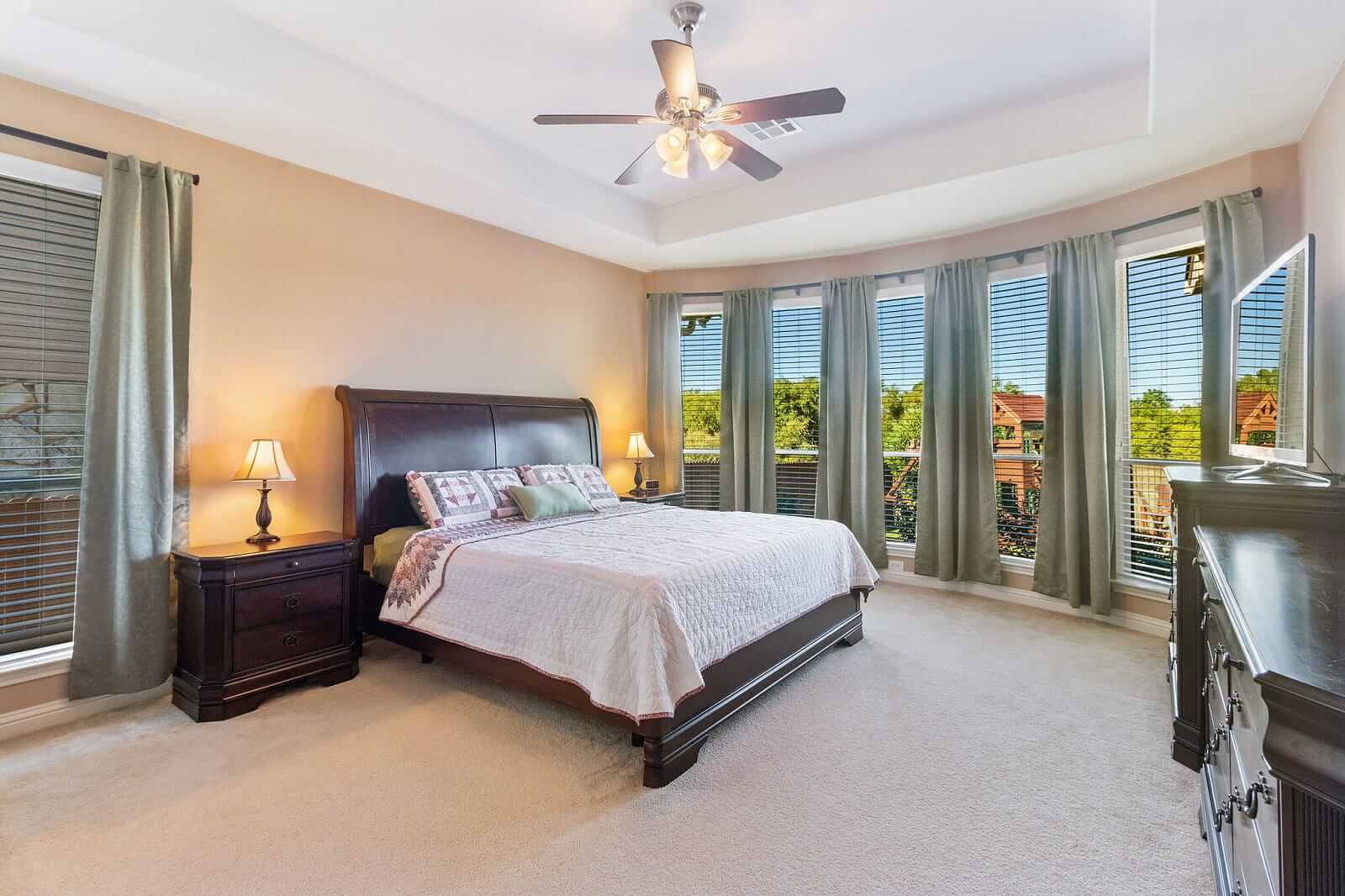 Austin Real Estate Photographers At A Glance
Skilled Austin real estate photographers understand what attracts prospective homebuyers visually to the listing, what makes a property image "pop," and what kind of photos will make the property stand out from other homes for sale in the Austin market.
That said, HomeJab's network of talented real estate photographers in Austin are skilled at what they do. Not only do our Austin real estate photographers have the wherewithal to capture exquisite photos of the property — ones that'll excite potential buyers and make them want to view the home right away.
Our real estate photographers in Austin can also produce high-grade real estate video listings that offer a seamless experience for the viewer. In turn, this quality content will generate more leads for the listing agent and drive more traffic to the home, whether it's an in-person tour or a virtual open house.

Need drone photography in Austin? We've got you covered! At HomeJab, real estate videography in Austin is a piece of cake. Our pro photographers capture stunning property aerials that lend a unique perspective of your home to prospective homebuyers. Schedule your photoshoot today and let HomeJab take the legwork out of marketing your home with our premier Austin real estate photography services.