Twenty percent of online traffic to HomeJab property pages comes from Facebook.   The social media giant is the #1 source of all visitors and is, of course, an essential strategy in real estate marketing.  With these benefits in mind, the HomeJab team has attempted to make the process of posting as easy as possible.  Here is a step-by-step guide on how to post HomeJab property pages to Faceboook.
1. Log in to Facebook
This goes without saying, but the first step is to sign in with the account you want to use to market your property.  If you keep you business separate from your personal account, please make sure you are logged in to your preferred Facebook profile.
2. Open your HomeJab Property Page
Once you are logged in to the correct Facebook account, click your HomeJab property page to open up a new page or tab in your browser.  There are two property pages that HomeJab provides (branded and unbranded) so please be careful to only open the branded page, or the one that shows your agent profile.
3. Click the SHARE IT button
Scroll down to the bottom of the property page and click the 'Share It' button under the agent contact form.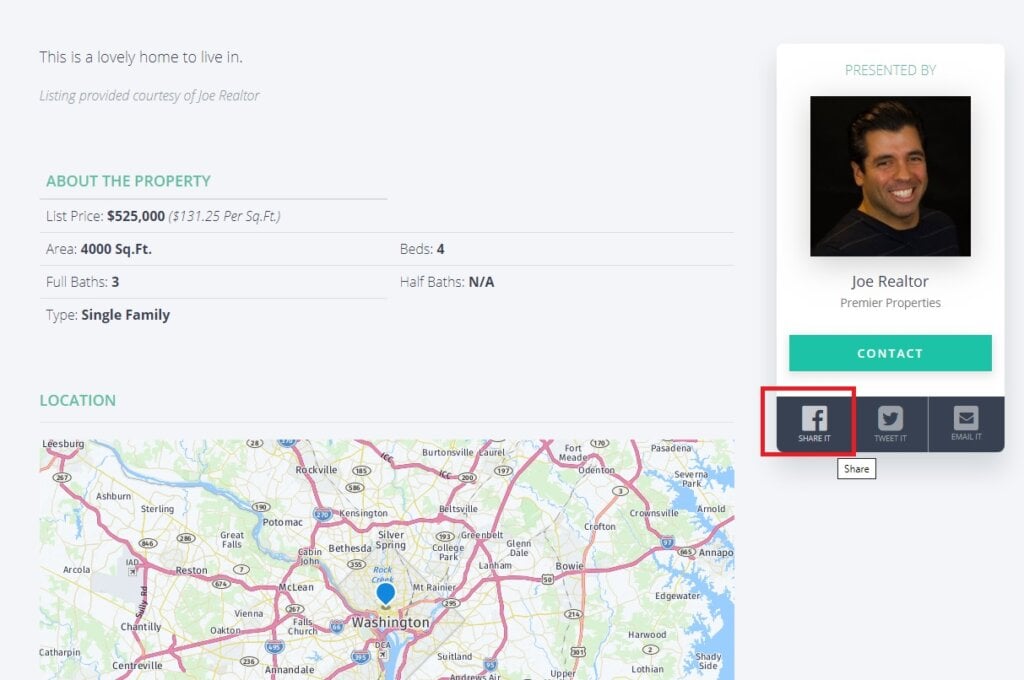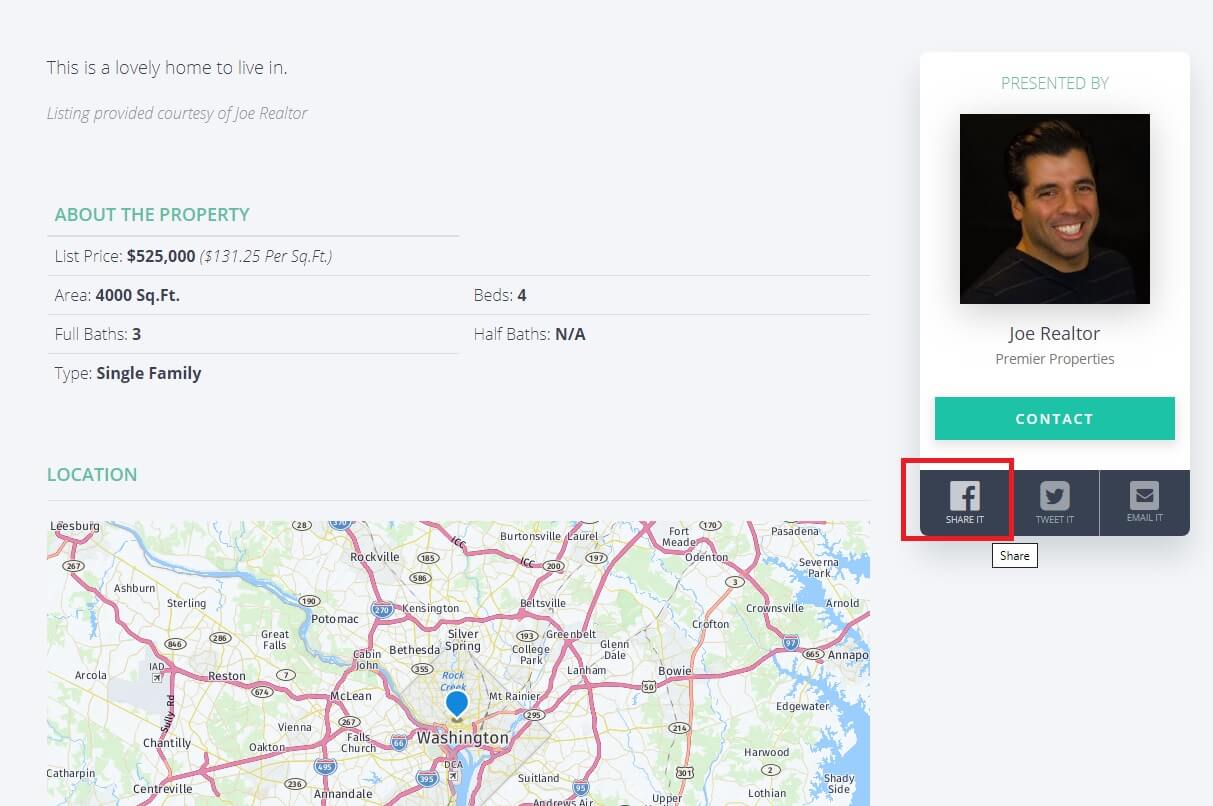 4.  Write your Property Description
After you click the 'Share It' button, a pop-up window will appear where you can type in the description of the Facebook post.  It should be up to 140 characters and describe why someone should click on your post.  After you are done typing, click the blue 'Post to Facebook' button.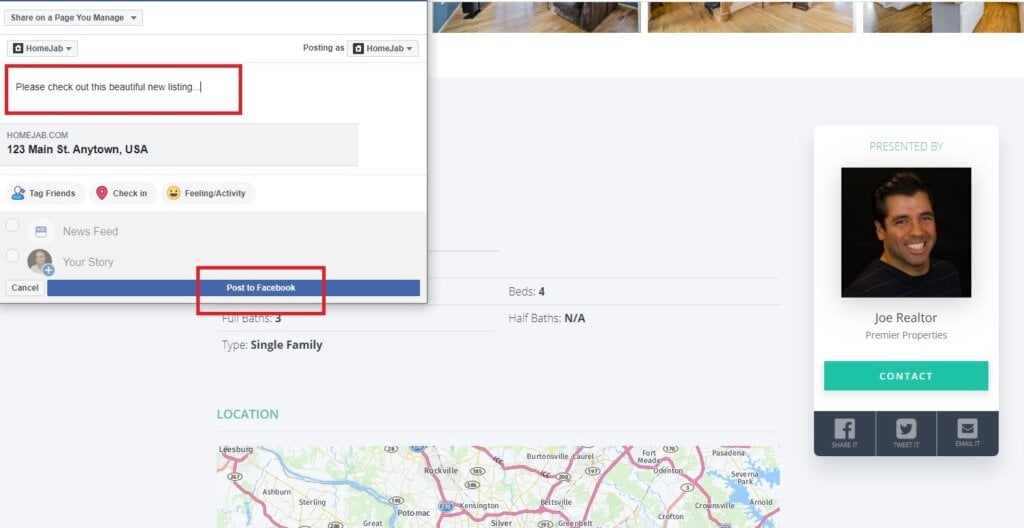 Voila!  That's one Perfect Facebook Post
After you click the Post to Facebook button, your post will go live on Facebook.  Head back to your profile page on Facebook to check it out.  The featured image that was chosen for your HomeJab property page will automatically be used for the preview image on Facebook, the property address will be used as the post title and your HomeJab property description will be used as the subtitle.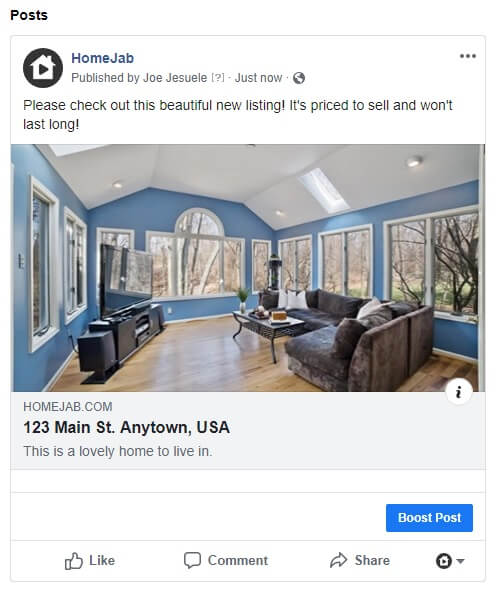 Video Posts on Facebook
Many customers have asked how to post real estate listing videos so that they play directly on Facebook.  To do this, you first need to download the video file.  This can be done inside of your HomeJab account by going to the Order Details page and then the Files tab.  Click to download the video and save the file to your computer.  Once the download is complete, copy and paste the HomeJab property page URL into Facebook as a post.  Then, click the Photo/Video button.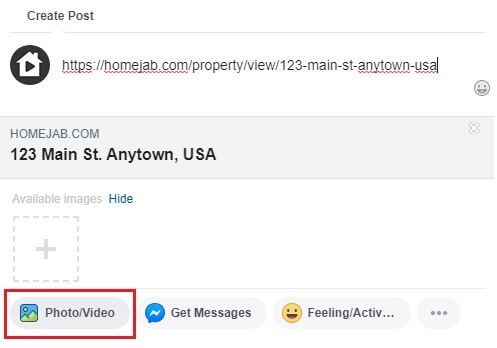 After you click the Photo/Video button, select the video file from your computer.  You will then be taken to Facebook's video upload page where you can type in the rest of the post details.  When the file is done uploading, it will automatically get posted to your Facebook profile.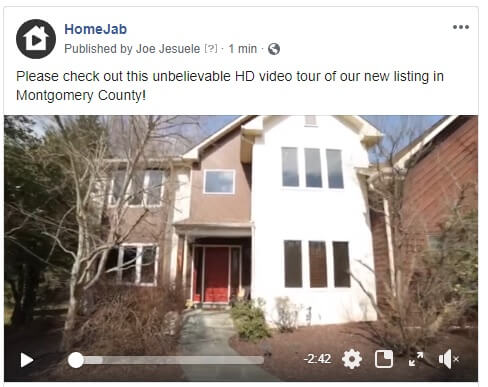 For more information on how to post your HomeJab property page to Facebook, please contact the HomeJab support team.