Real Estate Seasonality After COVID
HomeJab's new study found no significant changes in real estate's historic seasonality despite low housing inventory and COVID-19's impact. In other words, home buying and selling activities have remained most active throughout the spring and summer months, with a slump during the fall and winter, and this pattern has not been altered much by recent events.
HomeJab provides real estate agents and other industry professionals with on-demand real estate photography, videography, 3D virtual tours, and more. The company uses data analytics to deliver insights into industry trends regularly.
In its most recent study, HomeJab compared more than 63,000 completed assignments for professional real estate photography. The study covered the period from January 1st, 2018 to December 31st, 2021.
Several key findings emerged from the data analysis. For starters, a red valley on the graph (seen below) marks a steep drop in real estate photography assignments completed between March 2020 and May 2020. It's safe to say that COVID-19 threw a wrench into home buying and selling activities during those months.
Second, the highest peak on the graph appears in July 2020 across four years of data. This is likely tied to easing lockdown restrictions and reopening plans enacted by most states later in the summer, alongside historically low mortgage rates that enticed buyers back into the market.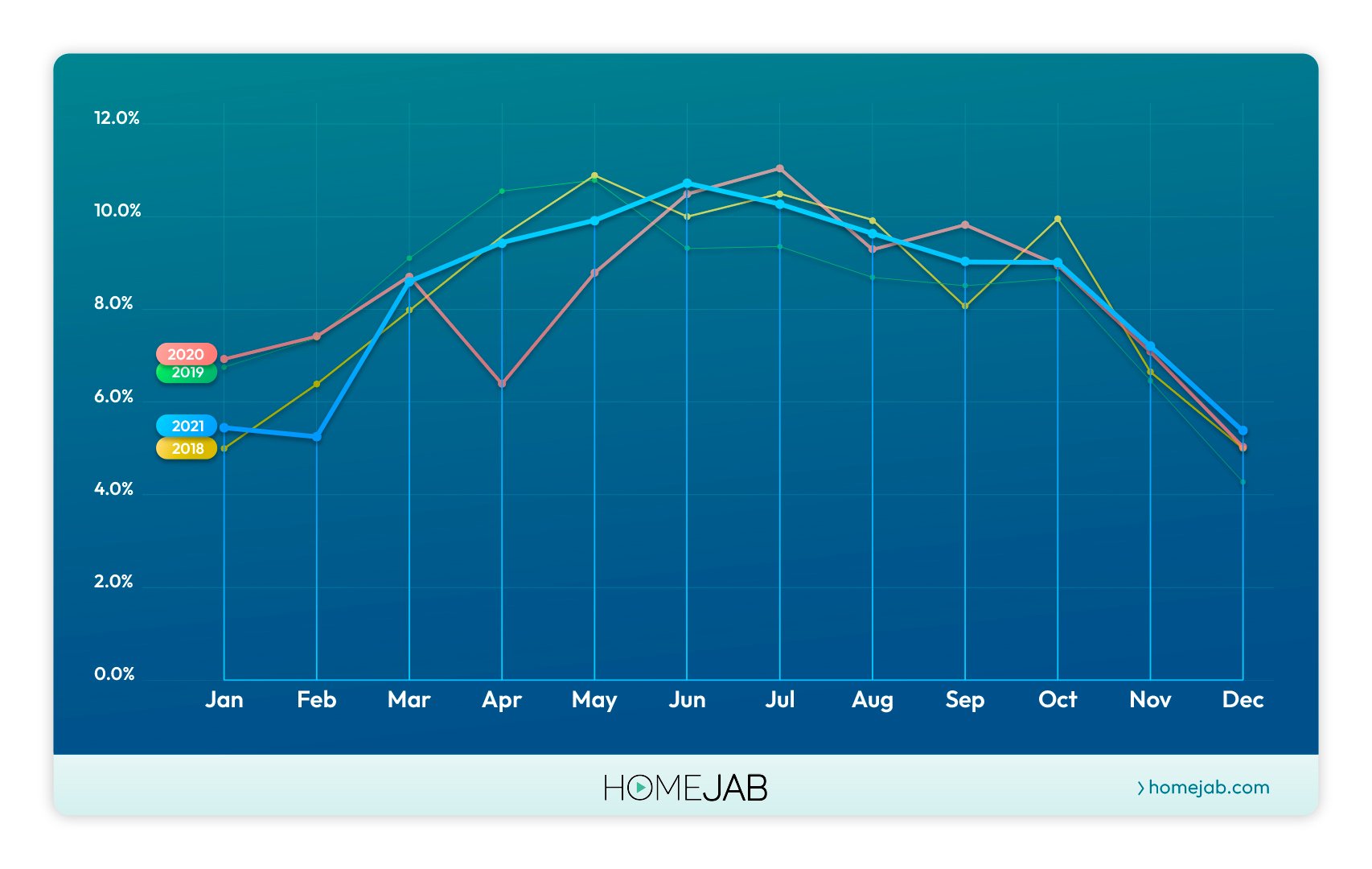 HomeJab CEO Joe Jesuele notes that seasonality has always played an important role in real estate. Despite COVID's influence on the market, these trends haven't changed much historically.
"Despite what the headlines may say, real estate is still seasonal," Jesuele said.
"Our research shows that real estate listings still peak in the spring and summer, begin to trail off in the fall, and decline significantly in the winter," Jesuele continued. "And when you plot the last four years on a chart, every year follows that curve — except for a short pause [the "red valley"] caused by the outbreak of COVID-19."
"There's also this idea that low inventory is changing the seasonality of real estate," he added, "but the data we have does not support that theory."
Jesuele is referring to real estate photography data in 2021 that paints one of the smoothest curves on the graph (shown in blue) and is consistent with seasonal trends in real estate seen in prior years.
A free copy of the detailed data from the HomeJab study is available here.
About HomeJab
HomeJab is America's most popular and reliable on-demand professional real estate photography and video services for real estate pros. Lightning-fast, high-end visual production includes immersive 3D interactive tours, floor plan creation, low-cost virtual staging, and turnkey aerial services.
A one-stop-shop for real estate listings, HomeJab features affordable and customizable shoots that create the most engaging, high-quality visual content. Not only does this lead to faster home sales at top dollar, but it also helps to build and enrich the listing agent's brand and sphere of influence.
HomeJab is available in every major US market, including all 50 states, as well as Puerto Rico, Jamaica, and Toronto.
Learn more by visiting HomeJab.com.