HomeJab is thrilled to unveil our groundbreaking service—3D Virtual Renovation, a game-changing solution designed to invigorate the property visualization process.
What is 3D Virtual Renovation?
3D Virtual Renovation by HomeJab is a bespoke and immersive 3D virtual tour of a home, allowing prospective buyers to visualize a property's potential rather than its current state.
With a click, old furniture and clutter are seamlessly replaced with customer-chosen, modern, and aesthetically pleasing alternatives, showcasing a property in its prime, accentuating its allure and revealing its true potential.
Before

After

Why?
Traditionally, buyers often find it challenging to visualize themselves in a home cluttered with outdated furniture or in need of repair. Our innovative service enables an immersive experience, allowing clients to customize and visualize their desired spaces in real-time, enhancing their connection and attraction to a property.
This augmented reality empowers buyers, reducing the conjecture from property investment, and provides a clear vision of the property's potential.
Who Benefits?
Out-of-town Buyers: This service is invaluable for those unable to physically visit the property, providing a lifelike experience of the potential living space.
Investors and Rehabbers: Ideal for those intending to renovate and resell properties, offering buyers a vision of the post-renovation masterpiece.
Real Estate Agents: Agents can market properties more effectively, highlighting the untapped potential and maximizing appeal.
Architects and Interior Designers: They can visualize different design approaches and changes instantly, enhancing their project planning.
Virtual staging has become an indispensable tool in real estate photography for still photos and 2D virtual renovations. However, its integration into 3D virtual tours is yet to become mainstream.
HomeJab's 3D Virtual Renovation is poised to bridge this gap, fostering an unprecedented level of property interaction and customization.
Before

After

The Future is Limitless!
Envision a future where real estate professionals can modify the virtual 3D space in real-time. A future where a simple command like "change the colors of this room," or "style it with a new, modern kitchen," instantaneously brings a new vision to life.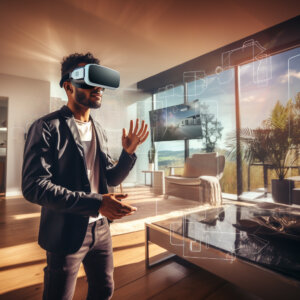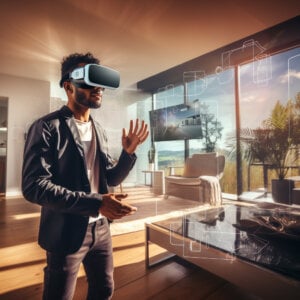 3D Virtual Renovation is the gateway to uncharted territories in real estate presentation. It's a comprehensive solution, beneficial for various professionals across different property types. It not only showcases properties in their utmost potential but also does so in a way that is customizable, interactive, and futuristic.
Discover a world where imagination meets reality, where the potential of a property is not just seen but experienced. Welcome to the future of real estate visualization, welcome to 3D Virtual Renovation by HomeJab.